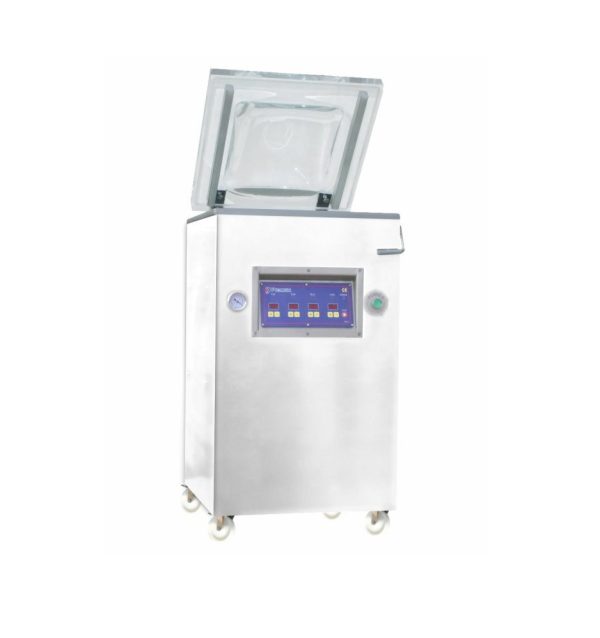 MODEL SC-420LR VACUUM CHAMBER
Standard Features:
PD-01 Basic Digital Control Panel
Stainless Steel Construction
Clear See-Through Lid
Bladder Activated Sealing
Busch RB-0021(1.25HP) Vacuum Pump
6mm Seal Wire or Electric Cut-Off Seal Bar
Options:
PNC-01 Microprocessor Control
Soft Air
Bi-Active Seal
Air Assist Sealing
Gas Flush System
Twin Beam Sealing
Please note: Specifications are subject to change without notice
Description
The Promarks SC series of vacuum chamber machines were designed to fit needs that other machines cannot. Our SC-420LR and 520LR are built with the same compact footprint as the popular TC-420LR and 520LR but offer users the opportunity to move these machines easily, taking them where they are needed on the work floor.
The most valuable benefit of these floor model versions is their increased portability. Equipped with heavy duty casters, these machines can be rolled from room to room without the need for heavy lifting or usable table space. The ideal machines for small processors, retailers, restaurants, and laboratories, these machines can be installed virtually anywhere with a standard 110-volt outlet. Like everything Promarks builds, quality and affordability are carefully balanced in order to appeal to our customers.
All of our chamber machines are constructed of high-quality stainless steel that results in our machines looking better longer. With the option of basic digital or fully programmable controls, you can decide what will best suit your needs. The removable seal bars can be fitted with your choice of a single 6mm wide seal, or you can opt for a thinner seal with hot wire cut-off, if a trim look is what you are seeking.
We understand that Busch vacuum pumps are the standard in our industry and that is why we offer them in all of our floor model machines. A great alternative that will also save you money is the optional Italian-made DVP vacuum pump. These pumps are increasingly becoming more popular for applications where reliability and cost savings are essential. All Promarks machines are guaranteed to meet the standards of ETL, UL and NSF.
We know what our customers want and that is why we have created a line of equipment that meets the quality standards of our European competitors while remaining cost-conscious. See for yourself what thousands of others have known for years and choose Promarks for your future vacuum packaging needs.
Specification: