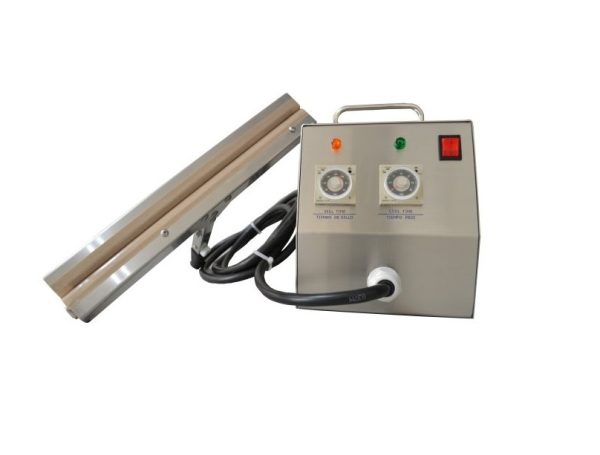 PORTABLE T-CLAMP HAND SEALER
Standard Features:
Seal Type: Single Element
Seal Head: Fixed Connection
Control System: Variable Range Analog Timers
Construction:
Options:
Seal Width: Up to 1/2"/12mm
Seal Type: Bi-Active
Seal Head: Quick Disconnect
Voltage: 220V/1Ph/60Hz
Description
The new Promarks Heat Seal T-Clamp Series features all stainless steel housings, both heat & timers controls, and comes in 8", 12", 15" & 18" sizes.
These rugged machines have available options such as bi-active seal and seal widths up to 1/2". Whether you seal a large bag occasionally or form heat seal able material around oddly shaped objects for crating on a daily basis, our T-Clamp Series has a machine to meet your specific needs.
Ergonomic Hand Held Impulse Sealer is also available
Each sealer is pneumatically operated and only requires the operator to push a button in order to trigger the seal cycle
Give us a call today and let us help you pick out a machine to meet your requirements.
Specification:
PTCS-8:
[table id=59 /]
PTCS-12:
[table id=60 /]
PTCS-18:
[table id=62 /]